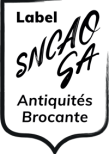 A Fair labeled by the main antique dealer second-hand dealer
The Chatou Fair is an event organized by the largest Antiquity and Flea Market Syndicate in France, the SNCAO-GA. It only accepts professionals sponsored by their peers, all members of the SNCAO-GA. Indeed, the latter absolutely insists on guaranteeing a level of quality and obliges exhibitors to sell the object for what it is.
No matter how old an item is, the key is to display and sell it for what it really is, as long as it is not new or a misleading copy of the old.
This is the reason why two experts are present at the Chatou Fair.
Mr Pierre Bourgeois (member of CNES) throughout the duration of the fair
An expert specializing in jewelry, on weekends.
Their role ? They check the objects presented and have them removed if necessary, they certify the authenticity and quality of the objects sold free of charge, draw up certificates of authenticity on request and advise visitors before their purchase.